THE Akbuk public has been signing a petition calling for better health facilities given the explosion in the local population over the summer months.
Under the leadership of Akbük Culture and Environment Association [AKÇED], a petition signing was launched at the village's Friday market.  Hundreds of people have already signed up calling for improvements
"Akbük has an official population of 5,000 in winter, but reaches 70,000 in summer. So the current infrastructure is insufficient to meet these needs. This situation poses serious risks in terms of public health," said president of AKÇED, Ferda Kılıç.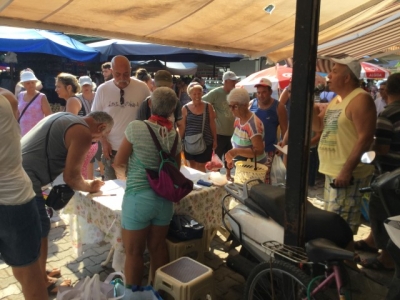 He has called on the Ministry of Health to look at the existing Health Center and to transform into a full-fledged "Neighborhood Policlinic".
The petition reads: "Our mission is briefly: the problem is that the service given to Akbük is limited to the winter population, which is the official population.
"The state does not care that the population of 5,000 in winter reaches 70,000 in summer. However, Akbük is an important tourist destination."
Mr Kılıç continued: "People's priority is health and those needs should be urgently taken seriously.  The main aim of our signing campaign is to ensure that the authorities are fully aware of their responsibility to the people of Akbuk."