A BRITISH passenger is reported to have been found hanged at a Turkish airport after apparently missing her flight.
Jaqueline Anne Sutton, (50), was found dead in a toilet at Istanbul's Atatürk Airport.
Ms Sutton (pictured, Dogan News Agency) had arrived at the airport from London with Turkish Airlines flight TK-1986 at 10:00pm on Saturday night.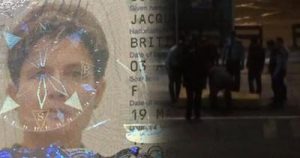 She was supposed to fly to the northern Iraqi city of Irbil at 00.15 on early Sunday, Sabah newspaper reported.
However, Sutton missed her flight and applied to transit passenger desk to find out what to do.
She was advised that she would to buy a new ticket as she had missed flight. She replied to the booking staff she did not have any money, and after crying for a while, went to one of the toilets in the airport, Sabah was quoted as saying.
Her body was later found by three Russian passengers in a toilet, and transferred to the forensic medicine institution morgue. A police inquiry is now underway.
A Foreign Office spokesman said: "We can confirm the death of a British national in Istanbul.
"We are providing consular assistance to the family at this time."