REPRESENTATIVES from England and Italy were in Didim this week as part of a joint catering educational project with the town's Zeynep Mehmet Dönmez Vocational and Technical High School.
The participants from Lewisham, Southwark College (England), coordinating-college Zeynep Mehmet Dönmez Vocational, Venosa Beach Resort & Spa and IAL Innovazione Apprendimento Lavoro Friuli Venezia Giulia Srl Impresa Sociale (Italy) came together as part of the 2014 KA2 SNACKS project,
The KA2 project called SNACKS (Short Non-Accredited Catering Skills) gives students the ability to learn catering and tourism skills in international countries.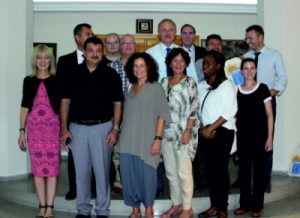 The participants who were visiting the town this week took the opportunity to meet the town's mayor Deniz Atabay.
The two-year project incorporates issues surrounding food and beverage services in the field of theoretical and practical training as well as integrating information technologies.
The meeting with the mayor included Didim, Lewisham and Southwark College Project Coordinators Shaz Guinea, Michael Neal, Mary Oyewo and Patricia Forrest; IAL Innovazione name Coordinator Carolyn Snelling, Lara De Carlo and Andrea Carnera with Zeynep Mehmet Dönmez Vocational and Technical High School Mehmet Coordinator of the Project on Meetings nature, Mehmet Doğan, Serdar Cemri, Murat Bekler and Ümit Çağlar.