Bust stolen from park
A BUST of the father of medicine, Hippocrates, has disappeared from its plinth in a park in Didim's Camlik district.
The design, by Antonis Chatzimizhail, was completed in three months and was put in the park at a ceremony in 2015. It was stolen from the place by an unknown person or people.
The opening ceremony was attended by Didim Mayor Deniz Atabay, members of the Didim Municipal Assembly, former President of the Didim Rotary Club, Serkan Bayar and Kos Rotary Club President Tasos Spirou, who came to the county.
That same day it was said a similar sculpture would be placed on the Greek island of Kos.
Officer's name to live on
FETHI Sekin's name, a police officer killed when he stopped terrorists from an attack in front of İzmir Courthouse, is to live on in Didim.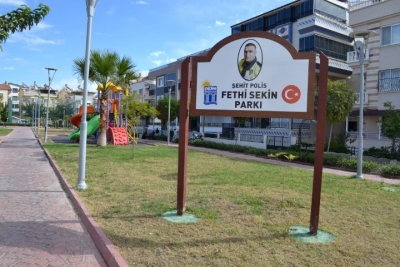 Didim Council decided that the name of a new park in 1484 Sokak, Efeler district, will be named Martyr Police Fethiye Sekin Park.
At the opening ceremony tomorrow (Friday January 5), 1500 people will be served a meal led by Bünyamin Karhan from Didim's tourism tradesman. The opening is expected to be attended by Aydin Governor Selim Köşger, Didim District Governor Mehmet Türköz, Mayor of Didim Ahmet Deniz Atabay, General Director of Alevi Culture Association Doğan Demir and representatives of civil society organizations.
Karman said: "There would have been a massacre in İzmir, but for our martyr police who alone prevented this massacre. We do not forget the martyred police, his name will live on in this park."
Volunteers come together for animals
VOLUNTEERS are providing much needed help at the Didim Animal Shelter.
Foreign and Turkish residents are helping to clean the shelter, feed the dogs, walk them, as well as attending to their medical needs.
The citizens who volunteered to visit the animals at the shelter said "Every day we come to the shelter, we walk the dogs and fulfil their needs, and we want to make them happy."
Other animal lovers who serve at the shelter also routinely stated that they helped with cleaning and maintenance works and stated that they made animal shelters from pallets for protection from cold in winter and from rain.
The Didim Municipality Animal Shelter in charge of veterinarians Ali Karahallı praised the work of the volunteers.