THE Didim Folk Dances Youth and Sports Association (DAHOT) is organising its 3rd International Children's Festival this year.
Folk dance teams from Soke, Azerbaijan and Georgia will participate to celebrate National Sovereignty and Children's Day on Sunday April 23.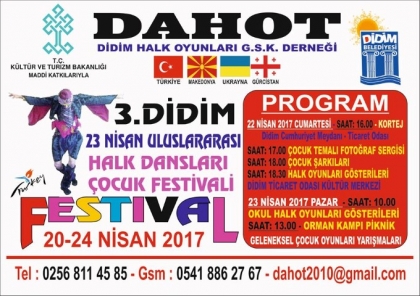 After a wreath-laying at Cumhuriyet Square on April 22, the Chamber of Commerce will host photographic and folklore exhibitions.
To celebrate the April 23 National Sovereignty and Children's Day, the fun will continue at the Tavşanburnu Forest Camp in Didim.
At the forest camp, there will be a series of folklore shows throughout the day where traditional children's games will be played.
The groups will also perform at Didim Mahir Özgür Damar Elementary School and Valiler Elementary School.