Advertorial
THE LOUNGE Bar is back with a bang for 2017 – with an incredible 221 dishes on its menu.
Popular with discerning diners, you'll be taken around the world to many different countries with the food on offer at The Lounge.
There's Indian, Chinese, Italian, Mexican, Norwegian!!, Turkish and European available this season. And crispy crab balls straight from?
S
o if you're looking for a bar that serves up fabulous food, treats you like a member of the family and where you can feel safe and secure, then why not sample the delights of the Lounge Bar.
The restaurant, which is also putting on Donor Kebabs (chicken or beef) and breakfasts, is a trusted name in the expat community, where you enter as a respected guest and leave as a friend.
This year the restaurant is:
Mondays: Fish and Chips Night
Fridays: Curry Nights
Sunday: Pork dishes….
And there's all the homemade pizzas for the kids, Naan Bread, samosas. There is also bacon from England and fish from Norway.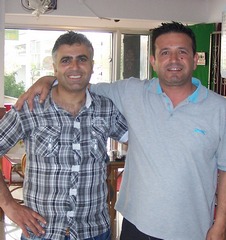 Established for many years, the Lounge is headed up again this season by Alan and Metin, both with wide experience in making your night as chilled, exciting or as friendly as you want it to be.
It is handily located on Manastir Caddesi – a road down the side of McDonald's just off Ataturk Boulevard.
The Lounge is again serving up pork dishes from belly pork to pork chops and pork kebabs.
The ethos of The Lounge is simple: the customer is always right.
Backed up by a fantastically laid back vibe, the Lounge offers more than most in your neighbourhood. With a no-hassle policy, the bar is quickly becoming a firm favourite among tourists and second-home owners for service that is just right, food on point and a craic of a night to remember.
Alan said: "We'd like to thank everyone who has supported us over the winter and down the years and we are really looking forward to new and old customers this season. The Lounge Bar awaits you – like always."
The bar also stocks Voices Newspapers on Saturdays so you are always up-to-date with the latest news.
For more information and reservation 0534 913 4444 or reach out on Facebook under Alan Lng Bar.