Didim's population tops 400,000
Didim Mayor Ahmet Deniz Atabay stated that there was a population explosion in Didim in August.
"Didim, which has a population of 80 thousand in winter, has welcomed more than 400,000 people nowadays. We mobilized all of our units as municipalities and took necessary precautions. Working with life is very much 24 hours a day in Didim," he said.
Domestic tourists commented that the combination of history and nature, along with Didim's famous Altınkum Beach, and its other beaches, offered many diverse opportunities for them.
New tender for street ticketing
AYDIN Metropolitan Municipality Economic Organization has announced plans for tendering for vehicle ticketing on a number of streets around Didim, as well as Nazilli, Söke and Kuşadası.
The tender was opened August 8, 2017 and companies invited to submit bids to determine the yearly increase in the administration over the revenue share.
The streets affected in Didim are:
Yunus Caddesi (the starting point merging with the starting point Aytepe-Tekyön)
Mevsim Avenue (One Way)
Karakol Caddesi (one way from the starting point)
Aytepe Street,
Aytepe Park Car Park Area,
Kurtuluş Street- Selanik Caddesi,
Akbük 1001 Street
Traffic lights call by resident in Camlik
RESIDENTS have called for traffic lights on some junctions in Camlik distriuct due to a number of rising accidents and near misses.
One resident commented: "Since there is no traffic lights, pedestrians that use these junctions are under constant risk of traffic accidents while crossing, and a car can strike them at any moment.
"To ensure the necessary alignment and security in areas where vehicle traffic is intertwined with each other or with pedestrian traffic, there should be some kind of electronic and light signals.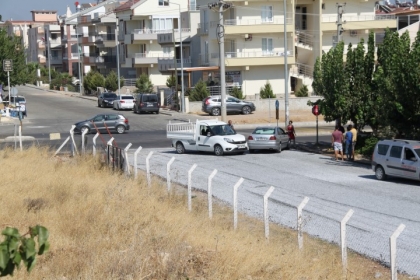 "If there is no traffic signaling system, there are going to be traffic accidents. And traffic accidents are increasing.
He added: "The aim of the traffic laws and regulations is to ensure the safety of life and property of those who are in traffic.
"However, necessary precautions should be taken in the main arterial areas where there is heavy traffic and especially at intersections. Otherwise people and vehicles were abandoned to fate."