A NOTORIOUS human trafficker has been caught on the Greek island of Leros, but the flood of refugees and migrants into Didim looking to escape to the EU continues apace.
Gendarme officers detained 94 illegal migrants/refugees – 90 Syrians and four Sudanese – at Tasburun fishing port, near Didim, two nights ago as they were attempting to head to one of the Greek islands, the backdoor entry into the EU.
Meanwhile in Kusadasi's Guzelcamli district a further 54 Syrians looking to head out to sea were also detained. Two suspects involved in the human trafficking of the Kusadasi group were also arrested.
Trafficker detained on Leros
A notorious human trafficker who made around €1 million (£746,000) in one day smuggling refugees from Turkey to Greece has been arrested since being caught on camera by ITV News at Ten.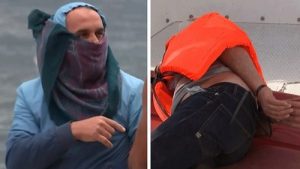 The man (picture left in a still from ITV news), described as the Greek coastguard's 'most wanted', is one of many traffickers profiteering from the desperation of those trying to escape war and poverty across the Middle East and Africa.
ITV News at Ten witnessed the man make several journeys across the treacherous crossing, each time bringing dozens of refugees and migrants to the shores of the Greek island of Lesbos.
The man was hunted down after making one of several trips across the stretch of sea, by officers who had to move quickly before he entered the safety of Turkish waters.
He was then taken to another part of Lesbos to be charged – and, if convicted by the Greek courts, he faces a lengthy prison sentence for human trafficking.
Things have developed quickly on the island, which has served as a popular gateway for people trying to enter Europe, since News at Ten revealed at least 1,500 had touched down on the coast yesterday alone.
An 11-month-old baby boy who died on the crossing as the dinghy carrying him was swamped by waves, was laid to rest by his family and a handful of strangers who attended to pay their respects.
Samos misery
Meanwhile a Voices reader has taken pictures of what greets them on some of the beaches on Samos.
The reader said: "It was an eye opener seeing children's life jackets with their colourful designs discarded on the rocky out crop that was their landing site, along with masses of inner tubes, and adult size life jackets.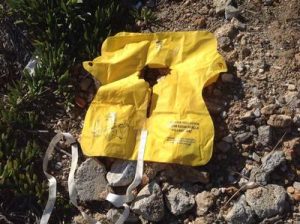 "Some of the life jackets are from Turk Hava. The ruins of the inflatable boats punctured and torn floating in the sea or washed up in the tiny pebble 'beach' which is surrounded by sharp jagged 'lava rock', which in turn leads to 'the promised land of the EU.
"At various points around the island you can see discarded life jackets, on one beach everything is piled up tidily."