Advertorial
"Something for nothing" sounds too good to be true doesn't it? Well with YellAli you actually you can get something for nothing.
Joining YellAli as a free member is one of the best ways to stay in the know about what's going on in Turkey, and once you've signed up you'll be sent our famous weekly newsletter full of useful and informative information.
And that's just the start as YellAli members receive many other benefits….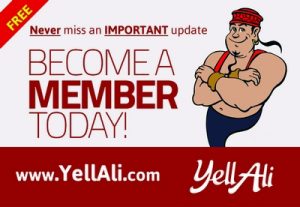 Unique Discounts
YellAli members will receive unique discounts for a variety of services, and you'll be notified first for unique deals and discounts. Our current members are already enjoying the benefits of some of our partners.
YellAli members are able to access special discounts and deals with all our YellAli partners, so far members are able to access discounts with: Secure Drive, Rent n' Connect and Travel Shop Turkey. This is just the start though as YellAli has many more great plans for expanding our partnerships and special discounts.
Informative
YellAli is the site to visit if you want to read interesting and informative content, we'll keep you updated about the latest going ons in Turkey and our content is a pleasure to read.
At YellAli we are aware that foreigner's interests will differ from a regular Turkish citizen and we care about addressing issues important to them.
We'll keep you updated about a variety of subjects that will matter to you such as topics related to living or holidaying in Turkey.
YellAli is always looking to expand its local connections and from time to time YellAli members will be able to access special local deals and discounts from participating businesses.
So there's the low down on the benefits of being a member of YellAli and it's all for free. And these are just the benefits so far YellAli is always expanding so members will have even more discounts and benefits to look forward to.
Our promise: As Turkey's leading online business directory and information portal YellAli is always striving to share our knowledge with the public. And the best way for you to benefit from YellAli's knowledge and services is TO JOIN US NOW FOR FREE!