A NEWLY discovered name inscription suggests UK archaeologist Frank Calvert, credited for numerous excavations in ancient Troy, may have been to Çanakkale province as early as 1846, on a family visit.
A local visiting Mount Ida in Turkey's Çanakkale province recently discovered a set of 169-year-old inscriptions, possibly belonging to famous 19th-century UK archaeologist and consul Frank Calvert (1828–1908), who is renowned for his excavations in ancient Troy, the Daily Hurriyet reported recently.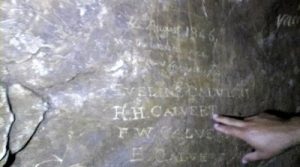 The name carvings were discovered by 28-year-old Cemil Darıcı in a Mount Ida cave and date back to August 1846.
Calvert would have been 18 years old and he might have been there on a family visit, given the other Calvert last names carved on the wall: "Eveline Calvert," "H.H. Calvert," "F.W. Calvert" (likely the archaeologist himself or his older brother Frederick), and "Eveline Calvert."
Calvert is known to have had six siblings.
A British expatriate, Calvert made key excavations as an amateur archaeologist and served also as a consular official in the eastern Mediterranean region.