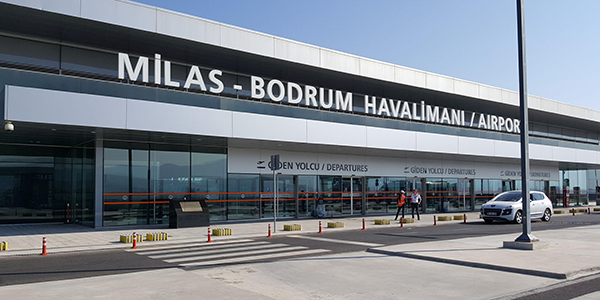 THE new operators of the international terminal at Milas Bodrum Airport have been urged to increase flights from across Europe in a new petition.
TAV Airport Holdings has begun management operations at Turkey's sixth busiest airport, Milas Bodrum.
The company will manage it following its auction victory against three other consortia – incumbent operator Astaldi, YDA Construction and a Fraport-led group. The auction was held by state airport authority DHMI.
The €717 million (plus VAT) deal saw the fifth airport added to TAV's Turkish portfolio, which also includes Izmir. As winner of the tender held last year taxes, TAV will operate Bodrum Airport until 2035.
It began started operations at the domestic terminal in October 2014.
TAV Airports President & CEO Sani Şener said: "Milas-Bodrum Airport connects one of Turkey's most significant tourism centers to the rest of the world with an annual passenger capacity of almost 4 million.
"After we had taken over the operation of the domestic terminal, we achieved a 16 percent increase in the annual passenger capacity. Now, we will endeavour to deliver such a performance at the international terminal."
"We believe Bodrum will become the fourth largest city in Turkey within the next 15 to 20 years. By increasing the direct flights to the international terminal in close collaboration with local authorities and players of tourism industry, we are planning to make Bodrum a center of attraction which will be popular for all 12 months of the year."
Bodrum Airport was opened to international traffic in 1997. Located between Milas and Bodrum, two important cities of ancient Caria region, it plays a significant role in transportation to tourism centers such as Didim, Kuşadası, Söke of the Aydın province as well as Muğla.
Within hours of the news, a petition was launched to congratulate TAV and to encourage it to see k more flights from in and out of the international terminal.
The petition at www.change.org stated: "There are many thousands of tourists who either live or travel around the Bodrum peninsular but who do not benefit from all year round flights, being forced to either not travel or undertake several, often expensive and lengthy flights out of season.
"We would like to see the provision of more Flights all the year round to/from Bodrum, especially the regional airports of the UK and not just London.
"We believe this expansion will not only aid your vision, but also massively boost the economy of the Bodrum peninsular region."