RESIDENTS of Yeni district of Didim turned out in force to relate their troubles and suggestions to Didim Council leaders.
Didim District Governor İskender Yönder, Didem Mayor Deniz Atabay and Didim District Police Director Serkan Demircioğlu listened to the troubles of citizens in Yeni Mahalle.
Didim District Director of National Education Branch Dem Kocer, Didim District Health Director. Mehmet Öncel, Yeni Mahalle Muhtarı Şaban Tokmak and Denizköy Muhtarı Mehmet Özdemir also attended.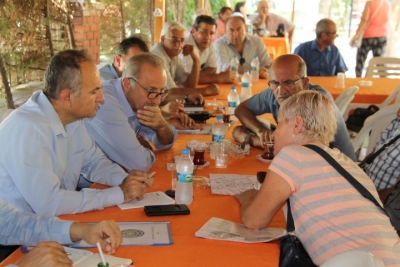 The most interesting complaint of the meeting came from one resident who made claims about cracks in buildings in Manastir Caddesi due to recent earthquakes.
Mr Atabay, immediately directed to the apartment where the teams were sitting by telephone
One of the other complaints was the parking of vehicles in places reserved for the disabled.
Others related the high incidence of traffic accidents and the need for traffic signaling systems.
The Didim District Police Chief said that necessary correspondences were made regarding this talk and traffic lights would be installed after the Feast of Sacrifice.